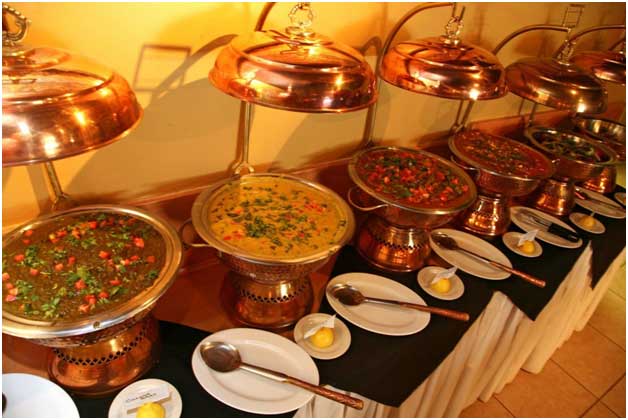 There is nothing subtle about the truly big, fat Indian wedding. It resonates with all your senses whether it's the eye catching glitz and color, the groovy Bollywood numbers that make your shoulders bop instantly or the smell and taste of the indulgent spread that is laid out for the guests to relish. Food lies in the very heart of every Indian wedding, and here are the 6 items that are a must on the magnificent menu prepared by Indian wedding catering.
Chicken Tikka
There's hardly anyone who does not love this North Indian tandoor dish. Chicken tikka is prepared by marinating and roasting bite sized pieces of boneless chicken in the traditional clay oven know as tandoor which gives a subtle smoky flavor to the succulent pieces of chicken. The marinade for the chicken comprises of yogurt and exotic Indian spices for the aroma that makes mouths water even from a distance.
Rogan Josh
Nothing can warm up your soul and invigorate your taste buds as much as this dish hailing from the kitchen of Kashmir can. The curry dish is prepares with a generous amount of spices which lends it a vivid red color and an equally bold flavor to match. The lamb in the dish is cooked until it reaches a melt-in-your-mouth texture which makes this dish and absolute delight to eat with rice.
Kerala Fish Curry
This South India dish is all about the balance of taste and robust flavors. The curry has it all – sweet, sour and spicy. Tamarind is used to give this curry its signature tang while the coconut milk in it not only creates a thick base for the curry but also adds the sweet creaminess to the dish. This dish is a complete treat to your palate and is best enjoyed with rice.
PalakPaneer
Indian cuisine nestles one of the best vegetarian dishes of the world if not the best and PalakPaneer could easily be crowned the Queen of this genre of food. Palak meaning spinach in Hindi is blanched, pureed and cooked with spices to create the sauce for the dish. And, cubes of paneer meaning cottage cheese in Hindi is then added to the sauce. This dish is a cult favorite for good reasons and can be relished with naan.
GulaabJamun
These are deep fried dumpling made out of evaporated milk which gives these beauties a caramelized and creamy taste. The dumplings are them submerged in sugar syrup which is flavored with the floral scent of rose water and the spicy, warm scent of cardamom. These spherical beauties are a famed sweet and a must have after a hearty meal.
Kheer
Another crowd pleaser when it comes to Indian desserts is Kheer. The best Indian food cateringprepares kheer by reducing milk along with spices like cardamom. Once it is thick and fragrant rice is added to the boiling milk along with raising and almonds and cooked together until it reached a thick, creamy texture.
So, if you are at an Indian wedding, do not miss out on these delicacies at any cost.