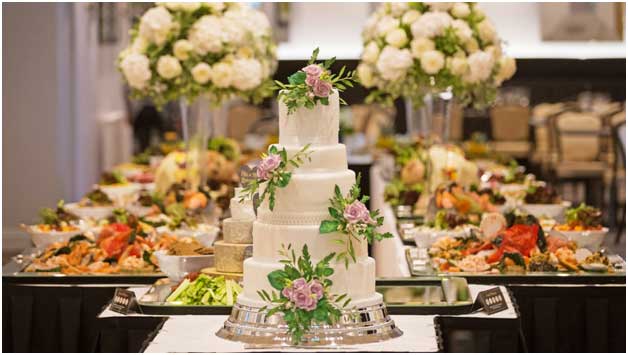 A wedding is one of the most beautiful experiences in this world. It is the union of two souls who have decided to spend their lives together out of love for each other. But the preparation of a wedding can generally be havoc. Every wedding is a performance waiting to happen and a story to be forever shared. There are funny, emotional, and a constant train wreck of multiple emotions, often turning the bride into 'bridezilla'. Among other things, the need for good food is the very heart of weddings across cultures, but particularly Indian weddings. Thus, it is crucial to be prepared for an Indian wedding catering beforehand.
While setting up the preparations, make sure to research well and get the best Indian food catering. It helps you aid in perfection for a buffet and becomes a huge helping hand and partner in your momentary madness to organize your perfect wedding. So, following are some pointers you can adapt to give a heart filling and more importantly stomach filling buffet to all your guests:
A Variety in the Series of Cuisine- The organization of the cuisine tables in accordance with their category is integral in making the perfect buffet. Otherwise, the crowd will be confused regarding the placement of food leading to chaos. Keep separate section for salad, snacks, and main course and divide them under the major subcategories of vegetarian and non-vegetarian.
The balance between taste and serving-Good catering is not solely about the taste of food, but also the level of service the carters provide. It has to be an ideal balance between taste and etiquettes of serving. Like considering the ideal time lapse between the serving of snacks and main course.
Research into everything- Before choosing the caterers, make sure what their price is. Before booking a venue, have a prior plan as to where you will be serving the meal. Ask the venue managers if they will be charging extra for kitchen use because some venues do so.
Choice of the menu- Try and include as many varieties as you can. Make sure you include different yet popular dishes which suit the tastes of multiple. Know your guests, keep in mind a rough idea regarding the number of vegetarians and non-vegetarian.
Drinks are to be separated- The drink counter is to be used throughout and multiple times by every individual. By ensuring a separate table for it, one can reduce the plausible chaos of overcrowding the serving counter, as the people in want of a drink won't have to get in the buffet line time and again. Separation of liquids from food will also minimize the potential mishaps caused by spills.
Plan stacks in accordance with your RSVP- You don't want the food to go to waste but you also don't want to run out of food on your wedding. That would be a nightmare. Take your RSVP quite seriously and convey your worries and an approximate number of guests to your caterers accordingly. Make sure you keep a reasonable amount of extra stacks of food just in case.
Aesthetic of serving- Though not a total necessity, instead of serving on usual tables, you can set a theme for the serving itself. Share your innovative ideas with your caterers, like Bollywood themed food serving where a table is replaced with a stable moving cart. It will draw the attention of your guests and give them something extra to remember.