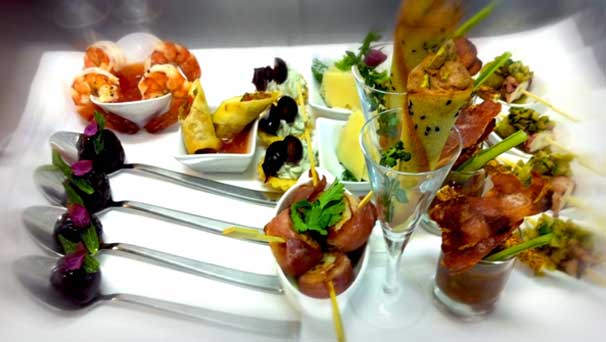 Weddings in India vary regionally, different in different regions, as per personal preferences of the families and bride and groom. They are no less than a festive occasion in India celebrated with high spirits, beautiful decorations, incomplete without music & dance, colourful costumes and exotic cuisine. Food preferences and menu may also vary from wedding to wedding. Like all festive celebrations marriage also is celebrated with lots of food and ceremonies rolled around actual event and a chance to enjoy different tastes at different moments.
The first word that comes to mind while planning and thinking of a wedding is Food as it's the magic of dishes & aroma of food that fascinates and makes your biggest day actually worth it. Choosing the food and right catering for your special day may seem like a challenging process than selecting the venue and clothes because the food to be served is what becomes the centerpiece of the day. You should choose the services of experts who not only understands the tastes of you and your partner but also manages to impress the guests at your wedding. The meals served should be satisfying enough.
Indian food is as diverse as Indian culture, languages and traditions; spanning from spicy and tantalizing to creamy and deliciously mouth-watering, offering a wide and vast range of options perfect for any marriage occasion.
As food is what brings people together, this is why quality and services cannot be compromised. Your guests may sooner or later forget about mistakes or issues with any performances on stage or slight mismatch in colour of decor, they might not even notice what you were wearing and how much it costs but they will never ever forget the food they had and what specialties they enjoyed. A minute variation in taste of a traditional dish can make them say negative reviews over food.
Principle Reasons to hire Indian Wedding Food Caterers:
Reduces stress and enhance enjoyment- weddings are thought of and supposed to be fun and enjoyable before it begins and even afterwards. The main area to focus upon is food which takes a lot of thinking and research, food tasting with different caterers and companies and finally deciding onto one. It becomes a cumbersome task to decide what to serve, whom to hire, how it will be cleaned up, and logistics etc .Hiring a caterer can bring you at peace.
Keep guests well fed- as an organiser of the event one wants to make sure that the quality of the food to be served should be great and the dishes you present should be loved by your guests.
Catering to variety of guests- a professional caterer can serve diverse and unique food from various traditions all at the same time without hassle.
Saves time and cost- you do not need to buy groceries, cook and spend hours preparing food. Hiring caterers can help save time and provide all the things at one place within your budget
So, you can hire Boston Indian Catering for gourmet catering. We can handle any size Indian wedding.