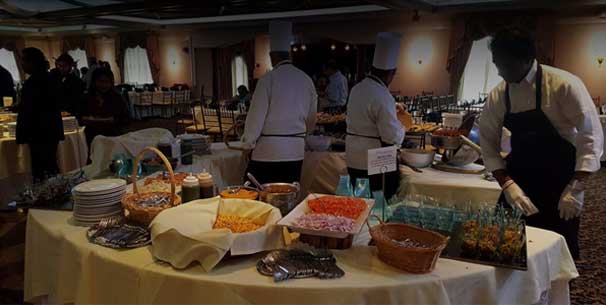 If you are someone who loves to have Indian food every once in a while but finds it difficult to find good Indian restaurants in Boston, then Boston Indian Catering Service's just what you might be looking for. Located on Massachusetts Ave, this company has their official website from which you can order a variety of Indian foods which will be delivered at your doorstep in a matter of minutes; given you live within 15 miles radius to its headquarters. The following are some other features of this well-known catering service of Boston:
Take a quick look at the menu
You can easily go through the menu of Boston Indian Catering through their official website if you wish to order online. They have a variety of food categories namely, appetizers, chicken entrees, beef entrees, rice and noodles, bread, salads, desserts, and beverages and a lot of options under these categories for their customers to choose from. Whether you want to have Vegetable Samosa, Chicken Tikka, Vegetable or Chicken Biryani, or traditional Indian desserts like Kheer or Gulab Jamun, these catering services deliver it all at your doorstep.
Seek catering services for an event
Are you hosting a big event and want to serve Indian delicacies to your guests? Well, no need to stress about it anymore as Boston Indian Catering provides catering services for a wide variety of Indian food items for its customers. To make a booking for an event, you can choose to fill up a fill-up form given on the official website of the company.
Here, you can clear out any queries if you have or request a quote after giving them some of your basic details like your name, contact number, number of people you would be hosting an event for, and a short description of your desired menu for the event. These service providers will then get back to you through the contact number that you had filled in the form. You can also contact the catering company through their email id or contact number that is given on the website.
Avail various discount coupons
You can now avail some amazing discount coupons and enjoy your favourite Indian meal at a much cheaper price through Boston Indian Catering. Some of their recent discount coupons include the following offers:
10% off with minimum order of $50
12% off with minimum order of $150
13% off with minimum order of $250
15% off with minimum order of $300
Furthermore, Boston Indian catering has earned amazing feedback from its customers; especially for their flexibility, friendly workers and pocket-friendly prices. Indian Catering Menu Boston of this company is remarkable for it has a wide variety of dishes within each category and taste of these dishes also leaves everyone satisfied. Further, along with providing tasty Indian delicacies, this company also provide tables, chairs, utensils and cleaning up services for events. Therefore, for all the Boston residents and Indian food lovers, Boston Indian catering is a must try.