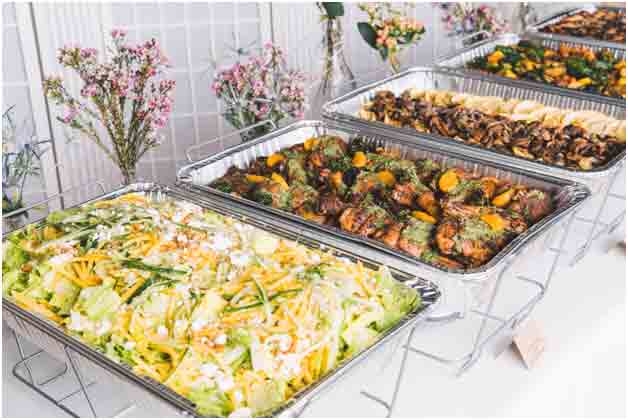 Indian weddings are an extravagant affair. From all the different ceremonies which are as tiring as the wedding itself, catering for the Indian wedding scene will be a challenge. There will be hundreds of close friends and relatives. And if you are thinking of inviting your neighbours and colleagues from work, then the number will increase substantially. To cater to an Indian wedding is an enormous task and mot; many caterers are ready to take up such a task. Not only the numbers, but caterers are also varied in serving in an Indian wedding because Indians very hard to please.
Well, there are many aspects of the Indian wedding, and the food also varies according to the different ceremonies. So for your Indian catering services make sure to include-
Haldi Ceremony
This ceremony signifies the purity of the bond of the couple. Usually, this ceremony is carried out in the day, post-lunch so you would require some light snacks like-
Pakora
These are Potato or onion fritters. They are soaked in a batter made of chickpea flour and are deep-fried in heated oil. These pakoras are served with some tamarind chutney or mint and coriander chutney. They make the best snacks for your post-lunch.
Chai (tea)
Indian tea is served piping hot. Chai and Pakora are best friends. They are always served together. Again there is a variety in the chai also. You have different varieties of chai available for taste. Some of them are cutting chai, masala chai, among many others.
Mehandi Ceremony
In this ceremony, henna is applied to the hands and leg of the bride. It is said if the color of the henna develops a deep color on the palms of the bride, then the love of the couple will be very strong. Usually, this ceremony is carried out at nighttime. It is usually done among the females of the family. Some snacks that should be included are
Cold Drinks
Cold drinks are a must to serve in this event. After a full day of running around, you would want your guests to cool down with a hint of drinks.
Dhokla
This Gujrati dish is well-loved by all Indians. This is s rather light dish and is perfect for a post-dinner situation. Your guest will not feel too full after a heavy dinner.
Chai
It is always the perfect time for chai for Indians. This bittersweet beverage runs in their veins.
Mahila Sangeet
This is one major function for the bride. In this all the brides' friends and relatives dance and have fun together. In this fest, one needs to serve dishes that can be prepared fast and are rather popular.
Dosa
This south Indian dish is famous. The rice and urad dal batter is spread and cooked till crispy brown. It is served with some potato masala. With coconut chutney and sambar, this dish is the perfect dish to serve.
Pani Puri
Known by many names, this is one popular street food that one must taste. Easy to serve and make, this is one good option for you to have.
Aloo Tikki
This is another popular street food that is easy to make and serve. Well-liked by all, you should include thin in your menu.
Main Wedding Reception
After all, the ceremonies are over, and the garlands exchanged between the bride and groom, it is time for the Wedding Reception. The Indian wedding reception is a grand affair. With a variety of dishes served.
Rice
This Indian staple is available in so many different varieties that you cannot count. You have the Jeera Rice, Mattar Rice, Fried rice, Veg Pulao amongst many more.
Vegetarian
In this, you have the Shahi Paneer, Dal Makhani, Mixed Vegetable, Palak Paneer, Chole, Rajma and many others that you can include.
Non-Vegetarian
On in this, you can include Butter chicken, Kadai Chicken, mutton Keema, Murg Kheema, Fish Curry, Chicken Biryani and many more.
So if you are planning to hire Indian Wedding catering services, then do keep some of these dishes in mind to put on your menu.