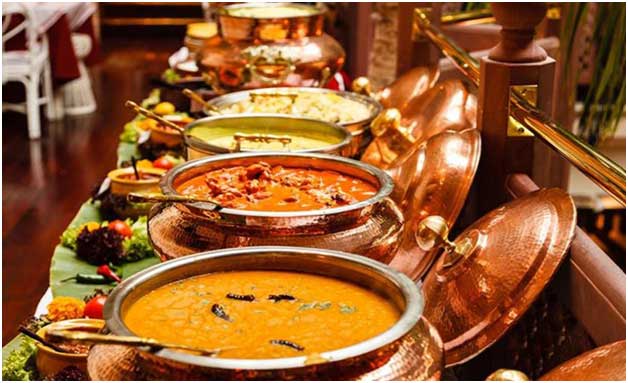 With the hustle and bustle of a wedding, you might think that your catering might not matter as much as how your decoration would impact your guests. People come to weddings for two reasons-
To see the bride gliding down in her beautiful dress
To eat the scrumptious food.
Food is one of the most important events that you would have to take care of. Since everybody considers themselves to be culinary experts, be ready to face critique on the food that you would serve on your guest's plate. If you are planning on serving some Indian food to your guests, and are working with Indian Catering services, then you should take a look at some of these important factors.
Balance:
Serving Indian food may seem simple. You might be thinking that you can serve them all dishes and desert at once and your job would be done. But this is not the case. Indian cuisine is best enjoyed when you serve the dishes individually with adequate intervals between the courses. To achieve this balance, you will have to work closely with your caterers, so that you would be able to give your guests a wedding menu that they would remember for years to come.
Venue:
The perfect venue is very difficult to come by. Getting the perfect menu at your perfect venue is even harder. Some venues allow you to bring caterers for outside; others will charge you extra for hiring caterers. Make sure to take care of such details with both your caterers and venue. By clearing up many of these things, you would be able to carry on with your wedding with no glitches.
Cost:
Before you confirm the services of your Indian wedding catering service, you need to get a price quotation with all the services that they are willing to provide you with. This is to make sure that you do not get overcharged for nominal services. Also note that many Indian caterers will charge you for a 'per head' price quote, so before negotiating with them, you need to finalize the number of people that you would have in your wedding.
Services:
This is one of the most important aspects of your wedding; you will see different types of services provided in the different cultures of a wedding. In traditional weddings, guests will be served by servers. In a South Indian wedding, food would be served on planting leaved, where as in most modern Indian weddings, food is served in a buffet style. You will be charged a different amount for the different services provided.
In most Indian wedding catering services, you will see that they work closely with you to come up with the perfect menu for you and your guests. Make sure to include many different mouth watering dishes like naan, or shahi paneer for your guests so that they would be able to experience Indian cuisine in the most authentic of ways. With food you can make sure that people would remember your wedding for many years to come.