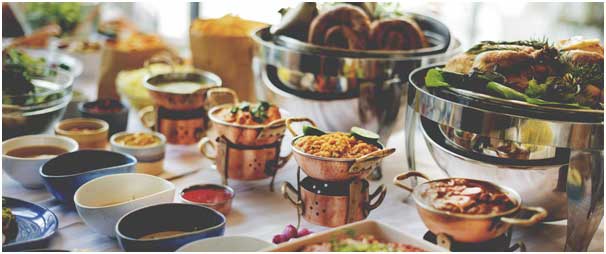 Indian food is not just limited to a specific course; there are lots of variations to be noted in it. When it comes to wedding catering services, Indian cuisine has lots to offer. One might likely engage in all of the cultural iconic food and totally customize the wedding menu as required. Most of the Indian catering services that are offered in and around Boston likely present some of the best options to the individuals. The booking of such a service can be made online and the rest of the deals can be made face to face.
Getting to select the wedding menu:
There is not a single specific menu that is limited to the wedding. From starters to entrees and even dessert, the options are limitless. Some of the most outstanding menu items that make it to the top of the Indian wedding menu include:
Indian wedding appetizers contain some of the best dishes. The most common ones include-
PaniPuri, which is considered to be one of the best selling and hottest items on the list.
Pavbhaji- Bread served with a side dish of spicy gravy that is mashed with butter and made extremely creamy.
Chaat- Consisting of various vegetables and topped with various sauces.
Indian wedding menu entrees can have several categories. Basically, there are two sections, which are the vegetarian and the non-vegetarian ones. The vegetarian ones include the famous paneer or cottage cheese curry. The non-vegetarian version has lots of options, from chicken to mutton and even fish. The entire entrée menu can be customized and one can cut off the entire section of vegetarian foods and include only the non-vegetarian ones as well.
No Indian wedding is actually complete without a sweet. Most of the Indian Catering Menu Boston consists of a wide array of desserts that are spread across the table. The options are not limited to a single dessert and widely include ice-creams, sugar-free sweets, and cakes as well. The spread of desserts can make anyone drool and therefore, this is considered to be the best section when attending an Indian wedding.
How to find the best wedding catering service in Boston?
Not all wedding services have proven to provide quality food. It is therefore mandatory to select the best caterer for the wedding day, as it comes only once in life. While looking for the best option, one can either browse online or connect to some caterers. Check the options that are available with them and talk about other preferences as well. If all of the things match, then the caterer can be booked with all trust.
The catering selected must also look after the presentation as well. When the food is kept to be served, it should be beautifully arranged and decorated nicely. Every dish must also have its unique presentation and this likely leaves a great impact on the guests and makes everyone happy.