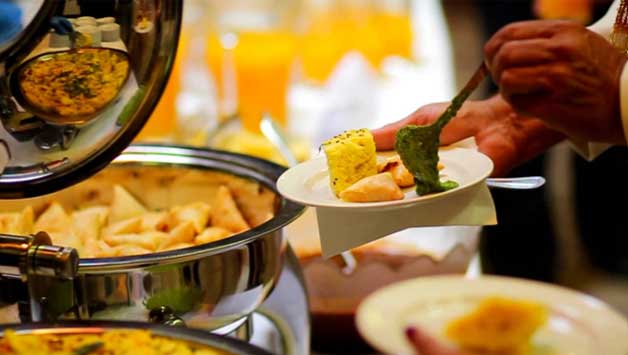 Indian weddings are not just a celebration of happiness and togetherness of two people, but also about hectic schedules caused by numerous ceremonies. To make sure people have a good time, food is an important aspect. This is made easier by having Indian wedding food caterers who make delicious food for the thousands of guests that attend these wedding ceremonies. Indian food is an important part of the culture and especially that of weddings. Boston wedding caterers prove to be one of the best in this field.
Quality of food
The quality of the food is impeccable and justifies the true nature of Indian food that is not just authentic but also flavourful having its own aroma full of Indian spices. Food catering guarantees good quality food that people can rely on to make the guests feel comfortable and enjoy tasty food items without the need of any hassle. From appetizers to main course and desserts, all types of food items are available. The menu consists of non- vegetarian items including sea food, chicken and mutton as well as vegetarian entrees. Vegetarian food items like tikkas and paneer pakore are slightly filling and also mouth- watering. It is not just used for booking events like weddings but also for online food delivery.
Service in Indian weddings
One of the only things that stand out to guests in an Indian wedding is the food and is also the most memorable part. Indian wedding food caterers have a wide variety of delectable food selections. By hiring caterers, the stress of making and serving the food to numerous guests is reduced. They just have to go for a food tasting appointment and decide what food they want to serve at their wedding. It even saves the food supplies cost and making of the food as the client will be paying for all those services together.
Online Information
One can select the desired menu by browsing online through the available food items and ordering the appropriate catering option. It provides one of the best food services from around the nation. Boston Indian Catering also showcases the gallery containing pictures of the events catered by them and by looking at these pictures, one can understand whether the catering suits the environment. Catering offers are also available which give certain discounts on payments and helps the overall hefty expenses that are caused by the tens of ceremonies for an Indian wedding. It can be found by searching for 'catering near me'.
Prices of all items are present as well so the clients can choose the food keeping their budget in mind. Their contact details are also available and any queries can be cleared. They have a whole team of caterers who attend to the weddding guests and serve the food. Boston Indian Catering also delivers food within 15 miles radius and makes sure that it arrives to the destination on time and in a proper condition. They also have many blogs related to food which provide information regarding catering services and highlighting their importance in an Indian wedding.